Qismat Pakistan was launched in 2010 in the wake of the worst natural disaster in recent history. We are empowering the people of Pakistan by deploying our proprietary Micro Donations Platform and working side by side with the mobile operators to establish small scale donations through SMS. There are currently several projects ongoing in Pakistan to help the local communities recover from the devastation from the floods and sustain long term growth. Please see below for some examples.
You can find out more about this on www.qismat.org.pk
Projects:
Dastarkhwan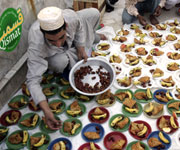 Project name: Dastarkhwan
Location: Lahore
Project Partner: Lahore City Council
Project timeframe: Start early spring 2011/weekly
Beneficiaries: 800 people/day
Short project description: Dastrakhwan, eating in a traditional way with respect towards the food and the way the food is set out. Qismat is providing daily meals in the park in Lahore to eat with dignity, open to everyone.
Rickshaw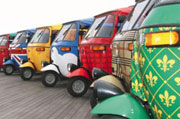 Project name: Rickshaw
Location: Lahore
Short project description: In line with helping people to help themselves, we are giving a source of income for people in developing countries. We are giving away 10 Rickshaws to under privileged families in Lahore as a source of Income.
Qismat Lahore Office: (Qismat Non-Profit Registration No. RP/301.)
| | |
| --- | --- |
| Address: | 238 Rewaz Garden Lahore Pakistan |
| Tel: | +92 42371 17745 |
| Fax: | +92 42371 17747 |