Goodwill ambassadors share Qismat's human development concern and commitment. They are at the top of their field, whether it's in media, business, culture or sport with talents and achievements that have made them household names around the world. Despite their diverse claims to fame, they all share a deep concern for the world's poor and a commitment to achieving Qismat's development goals.
APL.DE.AP – Black Eyed Peas Co-Founder & Philanthropist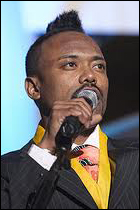 Allan Pineda Lindo, better known to his fans as Apl.De.Ap, is the Filipino-American member and co-founder along with best friend Will.i.am of the multinational hip-hop group Black Eyed Peas. His pseudonym pays homage to his home town of Pampanga in the Philippines where he was raised on a dollar-a-day program. As founder of the Apl.De.Ap Foundation, he launched 'We Can Be Anything', an education advocacy campaign as a means to help improve the education situation in the Philippines and is widely regarded as the primary educational ambassador for his island nation.
DR. NAIF AL-MUTAWA – Social Entrepreneur, Psychologist & Professor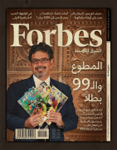 Dr. Naif Al-Mutawa is the Founder & CEO of Teshkeel Media Group, for whom he created 'The 99,' the first group of comic superheroes born of an Islamic archetype. Described by Forbes as one of the top 20 trends sweeping the globe recently, President Barack Obama praised Dr. Naif and The 99 as perhaps the most innovative of the thousands of new entrepreneurs viewed by his Presidential Summit on Entrepreneurship. Al-Mutawa has a strong academic and extensive practical experience in clinical psychology working with former prisoners of war in Kuwait and the Survivors of Political Torture unit of Bellevue Hospital in New York. His direct contact with the horrors of people tortured because of their religious and political beliefs, led to his writing a timeless children's tale that won a UNESCO prize for literature in the service of tolerance. He has also received the Eliot-Pearson Award for Excellence in Children's Media from Tufts University, the United Nations Alliance of Civilizations " Marketplace of Ideas" Award, The Schwab Foundation Social Entrepreneurship Award presented at the 2009 World Economic Forum and has been named as one of WEF's Young Global Leaders for 2011. Dr. Naif holds a Masters and PhD in Clinical Psychology from Long Island University as well an MBA from Columbia University.
ZOOBS – Artist & Philanthropist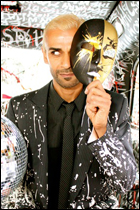 Zoobs is an award-winning British artist of Pakistani heritage, recognised and applauded by critics all over the globe. His art incorporates different cultures and their representations into breathtaking iconic images, richly themed with death, love, pain, celebration and magic. Along with his artistic side, Zoobs also runs an awareness campaign – Freedom From Sorrow, his philanthropic arm which fundraises for children's charities worldwide. His critically acclaimed Kate Middleton collage in Sex Pistols style "God Save the Future Queen" was sold for £20,000, benefitting his chosen charities.
This text will be replaced